Sign Up For Our Newsletter
Stay up to speed with our latest promotions, special deals, and announcements by signing up for our free e-newsletter.
We are proud to offer 10% military discount to all veterans, active duty personnel and family members.
*Receive 10% off your purchase when you present your military ID. See associate for details. Some restrictions apply.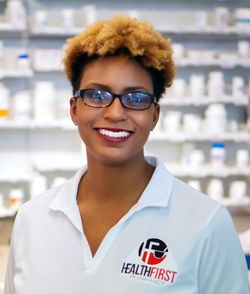 Dr. Adrian Webster-Hart
Dr. Adrian Webster-Hart is an experienced pharmacist driven by patient care and inspired to provide and maintain exceptional customer service. Wanting to open a pharmacy to service the community where she grew up, her goals continue to be to improve patient care and outcomes, providing education and empowering patients to take control of their health.
Adrian Webster-Hart graduated from Xavier University College of Pharmacy in New Orleans, Louisiana and began her pharmacist career in a closed-door pharmacy. She later joined the retail sector working for a chain pharmacy. It was there she really saw the need to help improve patient care, bringing the patient back into the center and focus of healthcare. Adrian wanted to bring a pharmacy to the community that felt familiar to people, that felt like home. Adrian wanted to open a pharmacy where patients could get the medication counseling and pharmacy care they needed and deserved. As a result HealthFirst Pharmacy opened its doors July 28, 2012. Adrian and her staff strive to be available to answer health and pharmacy questions, help prevent hospital visits, and help improve overall health and wellness daily.
Adrian is dedicated to patient wellness and hopes that her efforts will result in a healthier & happier community. When away from the pharmacy, Adrian enjoys running around with her 2 children, spending time with her family and friends, and cheering on her husband and his football team.

Reminders
Set reminders to take your medications.

Refill On-The-Go
Refill your medications 24/7 without logging in.

User Profiles
Safely store and manage your list of prescriptions.

Delivery Options
Request a refill and delivery with a single click.