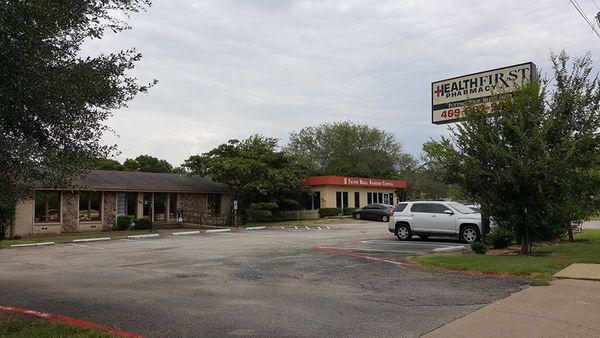 HealthFirst is an independent, locally owned and operated community pharmacy focused on cooperative health care. The company was formed by two pharmacists who are dedicated to improving patient care and offering better customer convenience. Our pharmacy is unique in that it serves your prescription needs while offering clinical services in addition to those received at your physician's office. Our focus on a team-oriented approach that includes pharmacists, physicians, and patients, will provide for better patient outcomes.
Here at HealthFirst, we understand that most patients are looking for a harmonized approach in fulfilling their needs and we want to be a positive part of that step. Our priorities are in line with better care. We focus on: improving patient health, better communication, cost-effective servicing, improving patient convenience, and providing a more personal experience.
We are located in DeSoto, Tx near the corner of Pleasant Run and Chattey Rd within the row of doctors' offices. We also provide services to assisted living, nursing homes, and home health care facilities. We are proud to call the DeSoto area home and are excited about our community.
Adrian Webster-Hart, PharmD
DeSoto native Dr. Webster-Hart received her Doctorate of Pharmacy from Xavier University of La. The Pharmacist-In-Charge and pharmacist preceptor was thrilled to be able to service her home town of DeSoto and surrounding communities. Along with her co-founder, business partner and friend, Dr. Sylvester, the two opened the doors to HealthFirst Pharmacy July 28, 2012.
Condile Sylvester, PharmD
Breaux Bridge, La native and co-founder of HealthFirst Pharmacy, Dr. Sylvester received her Doctorate of Pharmacy from Xavier University of La, is a preceptor for student pharmacist and is a member of APhA & DAPA. She is truly honored to serve her HealthFirst family and surrounding community.
Cassandra Salazar
Ms. Salazar began her pharmacy journey as a student with HealthFirst in 2015. The Dallas native is now the senior pharmacy technician and social media liaison. She is proud to be able to serve the HealthFirst Pharmacy family and community.