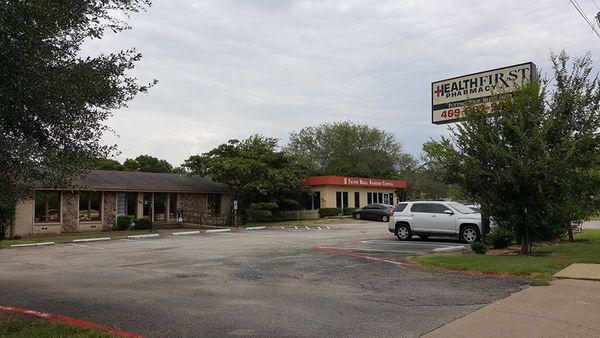 HealthFirst is an independent, locally owned and operated community pharmacy focused on cooperative health care. The company was formed by two pharmacists who are dedicated to improving patient care and offering better customer convenience. Our pharmacy is unique in that it serves your prescription needs while offering clinical services in addition to those received at your physician's office. Our focus on a team-oriented approach that includes pharmacists, physicians, and patients, will provide for better patient outcomes.
Here at HealthFirst, we understand that most patients are looking for a harmonized approach in fulfilling their needs and we want to be a positive part of that step. Our priorities are in line with better care. We focus on: improving patient health, better communication, cost-effective servicing, improving patient convenience, and providing a more personal experience.
We are located in DeSoto, Tx near the corner of Pleasant Run and Chattey Rd within the row of doctors' offices. We also provide services to assisted living, nursing homes, and home health care facilities. We are proud to call the DeSoto area home and are excited about our community.
Adrian Webster-Hart, PharmD
Dr. Adrian Webster-Hart is an experienced pharmacist driven by patient care and inspired to provide and maintain exceptional customer service. Wanting to open a pharmacy to service the community where she grew up, her goals continue to be to improve patient care and outcomes, providing education and empowering patients to take control of their health. Adrian Webster-Hart graduated from Xavier University College of Pharmacy in New Orleans, Louisiana and began her pharmacist career in a closed-door pharmacy. She later joined the retail sector working for a chain pharmacy. It was there she really saw the need to help improve patient care, bringing the patient back into the center and focus of healthcare.
Adrian wanted to bring a pharmacy to the community that felt familiar to people, that felt like home. Adrian wanted to open a pharmacy where patients could get the medication counseling and pharmacy care they needed and deserved. As a result HealthFirst Pharmacy opened its doors July 28, 2012. Adrian and her staff strive to be available to answer health and pharmacy questions, help prevent hospital visits, and help improve overall health and wellness daily.
Adrian is dedicated to patient wellness and hopes that her efforts will result in a healthier & happier community. When away from the pharmacy, Adrian enjoys running around with her 2 children, spending time with her family and friends, and cheering on her husband and his football team.
Ramonia Webster-Robinson
With over 25 years of health care business ownership and operation experience, Ramonia has played a part of the pharmacy since its inception, but has recently taken on a more prominent role. Ramonia has and continues to take pride in serving her community in some capacity. As the first black female to work for the DeSoto Post Office and the first black female to hold a managerial position at the same location, Ramonia has been trailblazing for decades. Ramonia owned and operated 4 home health care agencies before retiring. Eager to help and mentor her daughter in her own endeavor, Adrian was able to official persuade her out of retirement to help her run the pharmacy. Ramonia uses the same approach that has gained her respect and recognition, and success over the years and has adapted that to the pharmacy sector as she settles into her role at the pharmacy. When not at the pharmacy, you can find Ramonia laughing, spending time with her husband, friends, family, and adorable grandchildren.